Hello!
Well friends, my summer shows have ended.  Thanks to all who made the trek to Livermore to see them, and to those who missed it I say – s'cool bro.  From now on I'll just eyeball every audience of every show I'm in, searching for you with ever-dimming hope in my heart.  It will take your absence from approximately 4 more shows until I die from the disappointment.
Just kidding.
Mostly.
This summer was an amazing experience.  I've written all about the awesomeness of playing both Ophelia and Mistress Ford in a blog post for the Livermore Shakespeare Festival blog, which should be up in the next day or two, and I will be sure to cross-post it here.  My first blog for that series I linked to in my last post, but I've also re-posted below for any who may have missed it (READ IT).
But before we dive into that I just wanted to say – holy crap I have one week of work left.  And then it will be wedding (not mine!  or so we're telling people muahahahahahahaha!), vacation with my best boy (and visiting my sister, hooray!), and then it's on to more adventures with Shakespeare & Co.
And it occurs to me I may not have told you about this at all.  Well, if you don't hear from me for the next few months, there is a reason, and it's nothing so dismal as my hermitude (totally a word).  In fact it's rather joyous: I've been accepted to the Shakespeare & Co. conservatory.  It's a 14-week program that builds on the elements taught in the Month-Long Intensive I attended in January, including Linklater Voice work, Alexander Technique, Fight, Clown, Text Work, Sonnets, Movement, Rhetoric – the whole classical acting shebang.  As with the Month-Long, I'm excited and terrified, only probably more so seeing as now I know what's in store for me.  I'm going to work my butt off and it's going to be difficult and completely grand (not least of which has to do with some wonderful ladies who also participated in the January 2012 Month-Long also taking part).  Expect many pictures of colorful leaves and something called Fall, which I'm told they have in Massachusetts.
I am anxious about missing out on auditions and productions while I'm gone.  It's frustrating to judge that I'm just starting to really dig in to this theater community and get my name out there, and then (purposefully and willingly) pull myself out of it.  But I'll be back in time for a lot of the general auditions that happen at the beginning of the year in 2013, and I'll be back with even more fire and more skill.  It sounds like I'm convincing myself more than you, doesn't it?  Yeah, that's happening.
In order to go, I have had to quit my day job.  Saying goodbye to Flixster will be sad.  For someone who did whatever work was available for a long time, Flixster stands as a really stabilizing force in my life, not to mention some of my favorite people work here, and it's been an incredible learning opportunity in a field I never really thought about.  But it's time.
Which means:  I'll be looking for part time work in January 2013.  So start thinking about what kind of job opportunities you'll be hooking me up with!  (Probably not anything in the world of writing, as I really couldn't reconfigure that sentence to both a) sound natural and b) not end it with a preposition)
And on that completely self-serving note, I leave you with the post I did a few weeks ago.  Enjoy, and more to come shortly!
——————————————————————————
Auditions to First Read
BY ELISSA BETH STEBBINS
ACTOR
Originally written and posted on the Livermore Shakespeare Festival blog.  Click here to check out other entries regarding their 2012 summer season.
Auditions
Auditions are not my favorite part of the creative process.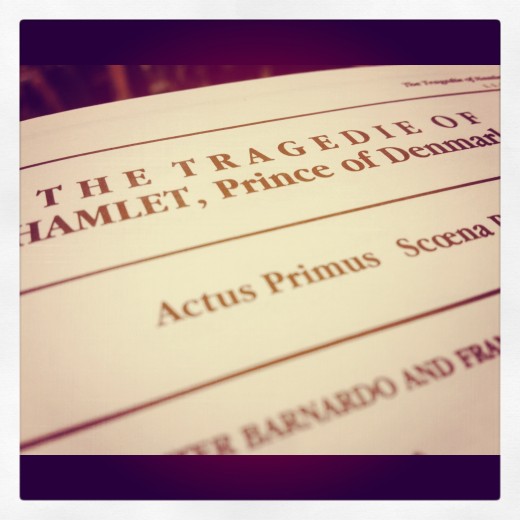 And I'm certain I'm not alone. For those of you who are required to audition to do what you love, I doubt I need say more. For those who are not, think of it like this: imagine interviewing approximately 10-20 times for every one job you land. Now imagine you need a new job every few weeks. This means even as you're working at one job, you're lining up as many interviews as possible (scheduling around your current job, of course). Now imagine that your interview is timed – sometimes as short as two minutes. NOW imagine, that in order to land this job, you must be willing to share the core of who you are – not your favorite past times, not where you grew up or what you may see as your best traits, but the love, the hate, the disappointment, the grief, the joy and the wonder that sit right around your heart. And you must share this core of yourself using someone else's words.
All right – who's ready to audition?!?!
Truthfully, it wasn't that long ago that I would have opened this post differently, probably something more along the lines of I HATE AUDITIONS. (Yes. All caps. You heard me.) But luckily, auditions are getting easier. Experience, training, and wonderful material helps (Shakespeare's words are a better conduit for those emotions nestled around my heart than my own words will ever be). Having friendly, known, respected faces (like Lisa Tromovitch, Ginny Reed, and Peggy Riley – Director of Hamlet/Artistic Director, Director of Merry Wives, and Dramaturge, respectively) in the room also helps. And so it is that I can say something I rarely get to say: auditioning for Livermore Shakespeare Festival's 2012 season was truly a joyous experience.
For the curious: having worked with Lisa and Livermore Shakes before, I wasn't asked to come in with a monologue prepared as many actors were. I was asked to prepare sides, or sections of the script, for both shows – a scene from Merry Wives, and two monologues from Hamlet.
And then the waiting. As always after auditions. Luckily there are always more auditions to fill the time.
Text Work
When Lisa Tromovitch called to offer me the roles of Mistress Ford in Merry Wives and Ophelia in Hamlet, I was excited to say the least. (I mean seriously – what an amazing opportunity to play such wildly different women at the same time! But more on that in a later blog post.) The months between the offer and rehearsals seemed incredibly long. But time has a way of speeding by when I'm busy, and I'm not one to be idle (hello understatement – it's been too long since last we met), so rehearsals began before I had time to catch my breath.
In fact, I was still in performance in San Jose when Hamlet rehearsals started and was sad to miss the First Folio workshop which kicks off the rehearsal process. I've been working with Lisa for many years, and the First Folio work is not new to me, but I always find it enlightening to start again – looking at long spellings, capitalization and punctuation, and speculating on what those clues might mean and how they can best be of use to me onstage. The lit nerd in me (oh don't even try to tell me you didn't see that one coming) collides with my insatiable curiosity about people as I stare at a colon dropped right in the middle of a thought and wonder "What is going on here?"
And that's how my text work begins, with the First Folio, a pencil, a stack of reference books, a slew of questions and an active imagination. And, knowing that the rehearsal process would be short and chaotic with two plays rehearsing at once, my text work began several weeks before rehearsals ever did. I was even lucky enough to take an Ophelia monologue into a weekend intensive and dig deeply into it for a few days. Whatever I could, whenever I could, was basically how my text work began. And, as always, I wish I had had time to do more (because truly, there is always more to be done).
First Read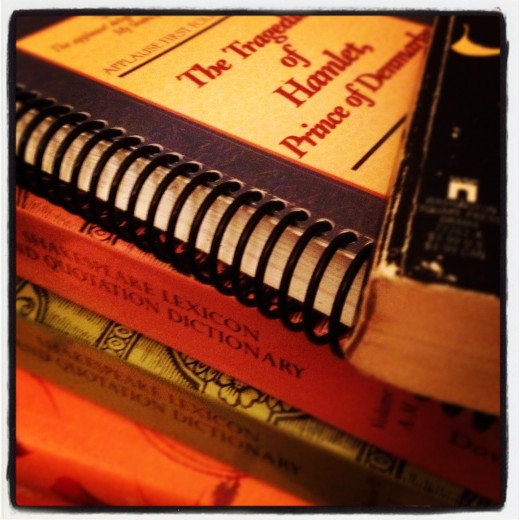 For most shows, the rehearsal process kicks off with a first read – all of the actors and much of the production team, sitting around a table, reading the play from start to finish. But Lisa chooses to push the first read back, instead conducting text work sessions with small groups of actors on most, if not all, of the play for a full week. This, in my opinion, is awesome.
For a full week we got to bring our questions – about word meanings, relationships, things left open in the text, historical context – to Lisa and Peggy, and make decisions together that would form the foundation on which we would base our characters. And the difference this made in the first read was palpable.
It FLEW BY. Have you read Hamlet? Flying by is not a phrase most people would associate with it. But between the cutting of the script, and the energy and emotional resonance of actors who had time to chew on the language and build their characters together, everyone was dead before I knew it (SPOILER: it's a tragedy folks).
We're a little further into the process now, and what I began to suspect at that first read has become a full fledged opinion: We've got a great summer of shows. I hope you'll join us.